Even if anyone contests the claim that Anokye was and still is the greatest medicine man (shaman) the Akan have known, it is without doubt that he is the most well known medicine man who lived among the Akan. It is therefore absolutely worthy to mention this man whose exploits have come to be known by all Akan since the 17th century. In the Akan language, the word "Okomfo" (or "Ɔkomfo"/"ƆkomfoƆ" ) is used to refer to one who is a traditional priest, a medicine man of sorts, who works with the spirits (abosom). Anokye was a master of elemental magic and could perform feats that some will just not believe. Some of those feats are documented below, and photos of his exploits will also be published below.

To this day, there is a sword planted in the ground in Kumasi (capital of Asanteman, the Akan-Asante kingdom) which no one has been able to pull out. English folklore talks about "Merlin's Sword", the Akan actually have a real version of this, Anokye's Sword, which was planted in the 18th century by this great medicine man, and which remains planted, no one having been able to pull it out over the centuries (see photos below). This was only one of his many exploits.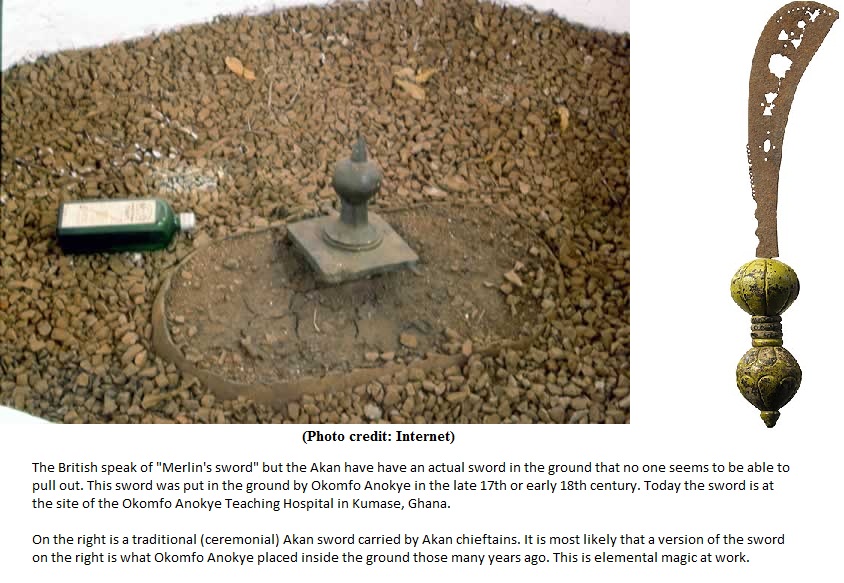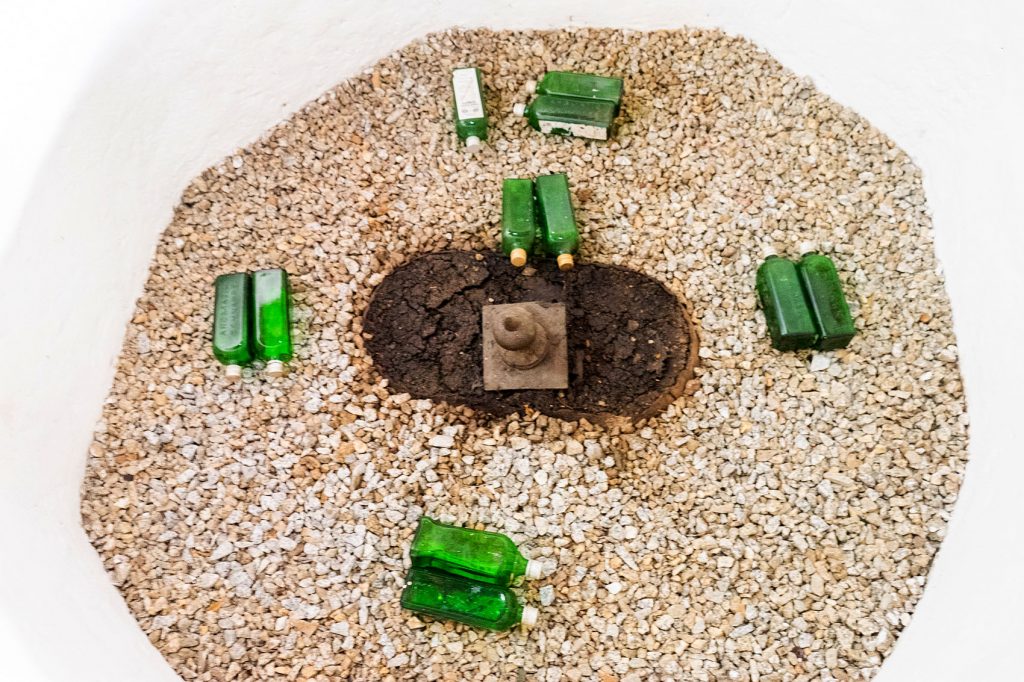 This article is almost entirely based on a small but important book written by Amos Anti which was published in  1971. The author of the book says his research into the life of Okomfo Anokye started in October 1925 and was completed in August 1965, so that's almost 40 years of research. During this time the author not only had access to published works but also collected and collated many oral accounts from among the Akan people in Akuapem and Asante to put together his book. The result was the 100-page title Akwamu, Denkyira, Akuapem, and Ashanti in the lives of Osei Tutu and Okomfo Anokye (Ghana, past and present). I shall hereafter refer to this book as "ADAA-OTOA". I managed to find a copy of this book in a large public library. It is my aim to share Mr. Anti's works insofar as they describe the actual magical feats of Okomfo Anokye.


ACCOUNTS OF THE ORIGIN OF OKOMFO ANOKYE

Stories concerning Anokye's origins are shrouded in magic and mystery. There are several different accounts of where Okomfo Anokye originated from. I shall touch upon two Akan accounts, those of the Akuapem and of the Asante, although some Ewe people also say they have accounts of his origins.

According to the Akuapem people, Anokye originates from a town called Awukugua which used to be the capital of Kyerepong (ADAA-OTOA, p. 6). Anti also says in a footnote on this page, "Awukugua was originally known as Okyereso and the people were called Okyere KpƆnkpƆ – hence the corruption to Kyerepong"

The Guan and the Kyerepong were earlier arrivals to the area now known as 'Akuapem' in Ghana. Larteh and Awukugua were respective strongholds for these two groups. These people have very old traditions and relationships with the spirits of the land.

According to Anti (ADAA-OTOA, pgs. 8-10):

"Traditions both in Akuapem and in Ashanti appear to agree what Okomfo Anokye was older than Osei Tutu — most probably by ten years. According to recent research Osei Tutu died in about 1717. If Osei Tutu died at the age of 72, according to the same sources, then his year of birth must have been 1645. On this supposition, Okomfo Anokye would have been born in about 1635.

The real name of Okomfo Anokye was Kwame Agyei; his other names were Firempong Manso. His appellation Kotowbere is known and used mainly in Ashanti: thus he was called Kwame Agyei Firempong Anokye Kotowbere. In Ashanti he was claimed to be the grandson of a man called Amoa Gyata from Bona-Bom, Adanse. Others claim that he was the son of a man called Kyei Birie and a woman called Dwirawira Kwa, an Asenie woman from Adanse-Akrogyere.

According to Akuapem tradition, Okomfo Anojye was the son of one Ano, a quiet and physically weak father, and Manubea, an energetic, setimental and talkative mother. They were natives of Awukugua, a town in the Nifa (Right) Division of the Akwapem state…..It is said that when Okomfo Anokye was born in Awukugua he was already holding in his right hand a short white tail of a cow (bodua); and he had so firmly clenched the fist of the other hand that no one could open it. The woman who went to deliver the labouring mother tried to open it because she suspected there was something in it. The father was called in to assist, and immediately the father came in and touched the hand Okomfo Anokye opened his eyes and, staring at the father, quickly opened the mysterious hand, showing it to the father and saying "Ano….Kye" (Guan language) meaning "Ano…see" and gave to the father what was in it. It is alleged that it was a talisman. From this incident Kwame Agyei got his name "Anokye".

"…Some other traditions state that when Kwame Agyei was born, he already had teeth and a beard, and was able to speak and walk. It is also said that one night, when Kwame Agyei was still a child, his parents were roused from sleep by the cry of a child…They went out and found that it was Kwame Agyei who was crying and walking about in the yard. On consulting [a medicine man], they were told that the child "went out to eat". Oracular interpretations further revealed that the child was not an ordinary human being, but a god [i.e. perhaps a nature-spirit entity incarnated into a human body?], who had been born for a special mission, and that if he were not properly taken care of, his mother would die and the people of Awukugua would become poorer. But if they took proper care of him, the Kyerepong people would become great and powerful."


Now I shall jump the life activities of this great medicine man and go straight to his miracles, what I wanted to be the main focus of this article.


THE MIRACLES OF OKOMFO ANOKYE IN AKUAPEM (ADAA-OTOA, pgs. 35-37, this is reproduced from chapter 10 of the book)

Anti wrote:
"In THIS chapter, I shall describe as many of the miracles alleged to have been performed by Anokye as I have been able to collect in Akuapem"

1.Anokye could arrange a number of empty dishes one on top of another, and command that all the dishes be filled with fufu (a local Akan dish).

2. Once before a big crowd, Anokye caused a plantain to be cooked; when the plantain was well cooked, he planted it. It immediately germinated, grew, ripened and was harvested.
3. Anokye tied a very long thread between two poles, and walked on it with his wooden sandals ("nkronnua").

4. He could be locked in a room, but would come out while the room was still locked.

5. He would command the rain to stop falling until the celebration of a festival was ended.

6. Anokye would jump over a live snake, and the snake would immediately die.

7. One day at Awukugua, Okomfo Anokye's mother had no meat for food so Anokye told his father that he would give them meat. He asked his mother to prepare palm-nut soup. When the soup was well cooked and the fufu was about to be pounded, Anokye went into a trance, and when he became conscious he ordered his father to go out to the back of the house near the bush; when the father went there he found two big antelopes lying asleep. The father killed them and brought them home.

8. Once at Awukugua, [as a boy], Anokye and his parents went to their farm. A heavy rain fell till late in the night, when it was very dark. Anokye went into a lonely place nearby and brought some leaves. He gave one to each person and asked them to put [these leaves] under their armpits and [to] close their eyes. As soon as they did so and opened their eyes they found themselves at home [i.e. teleportation]

9. Once, at Awukugua, Okomfo Anokye asked his servants to go into the pool Asenee, about two miles away from the village, where they would find two strangers, a man and a woman, sitting in a brass pan and floating on the surface of the pool. When the servants arrived there, they saw the two people with a fowl and yam, and brought them home to Anokye. The two people later got married and had children and settled at Akuapem-Akropong. Their descendants were Asarebea and Manubea and are still known as Aseneefo.

10. Once, Okomfo Anokye poured the dregs of palm-wine on to the ground and immediately there grew an oil-palm tree. It is alleged that the oil-palm tree stands now near the main street at Awukugua by his shrine "Obuabeduru". It is harvested yearly and the fruit distributed to the seven Stool holders, known as Adadifo, and the Chief of the town.

11. Anokye used his own kuronnua (or wooden sandals) to climb up that oil-palm tree and left some imprints of his feet on the trunk. These are still seen on the tree at Awukugua.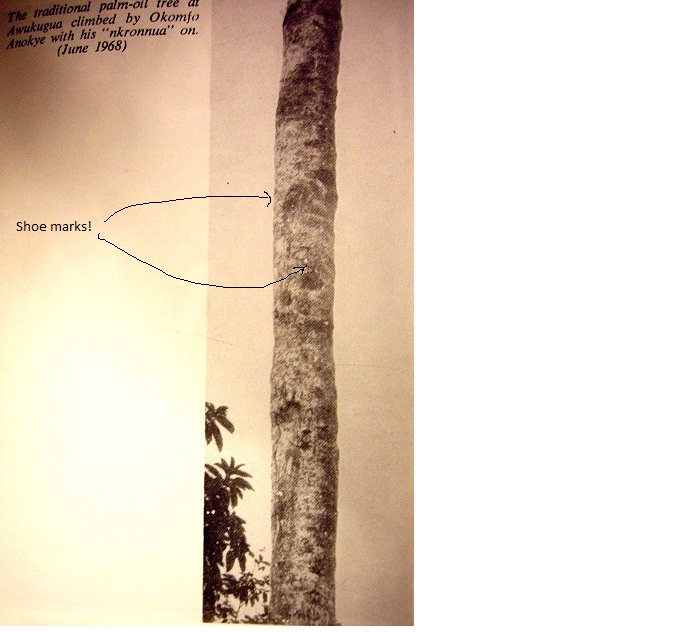 12. It is alleged that on ceremonial days, if the people of Awukugua were short of palm-wine, Okomfo Anokye would climb up that oil-palm tree by the street with his wooden sandals on, and would bend a branch and use it as a pipe through which the palm-wine would flow, and people would collect it beneath the tree.

13. He moulded an Ɔware game board out of a stone, which is still seen as Awukugua (see photos below – this one is remarkable, the implication is that he moulded the stone with his hands!)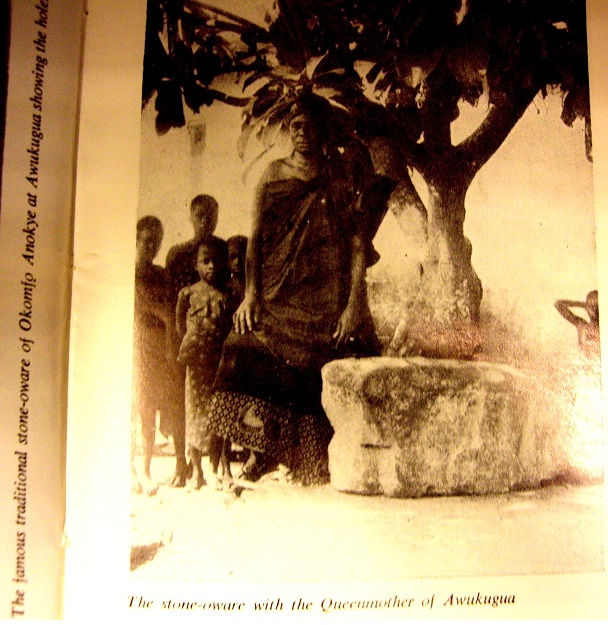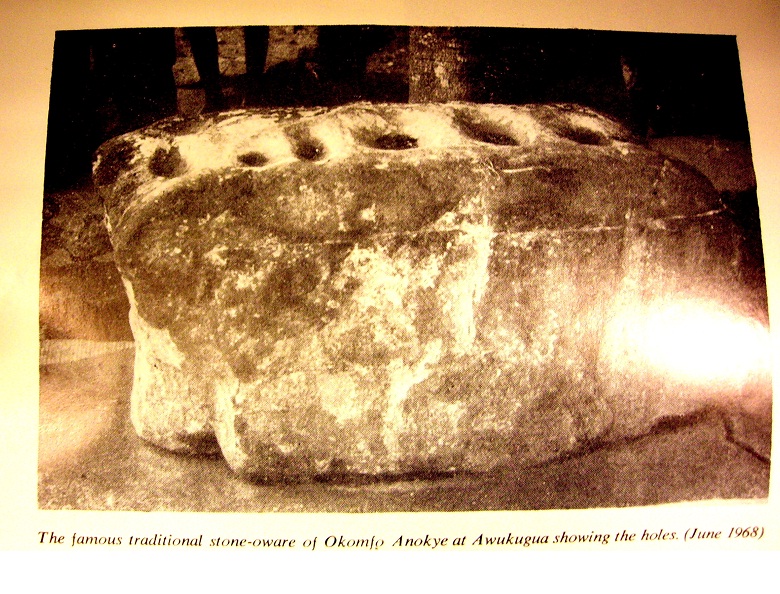 14. In a sacred place called Ayete at Awukugua, Anokye used to perform some mysterious rites in connection with a very big rock. He would perform an invocation and go into a trance until water came out of the rock. The water was used for cooking the nuts of the palm tree at the place of the seven Adadifo. If the water failed to come then it was a bad omen, and Awukugua should be purified.

15. Okomfo Anokye would walk through the rain without getting wet.

16. Okomfo Anokye would point his finger at a hawk on a tree which had seized a chicken, and the hawk would drop down dead.

17. Okomfo Anokye would cook food in a perforated pot, and would also boil medicinal herbs in it [i.e. without the liquid spilling out]

18. Okomfo Anokye would dash a raw egg against a stone, but the egg would not break.

19. In a rock on a mountain at Apedwa, Akim Abuakwa, there is a foot-print which is supposed to be that of Okomfo Anokye


THE MIRACLES OF OKOMFO ANOKYE IN ASHANTI (ADAA-OTOA, pgs. 38-45, this is reproduced from chapter 11 of the book)

1. In a street in Kumasi, Anokye pushed a dagger into the Earth, since then no one has been able to pull it out.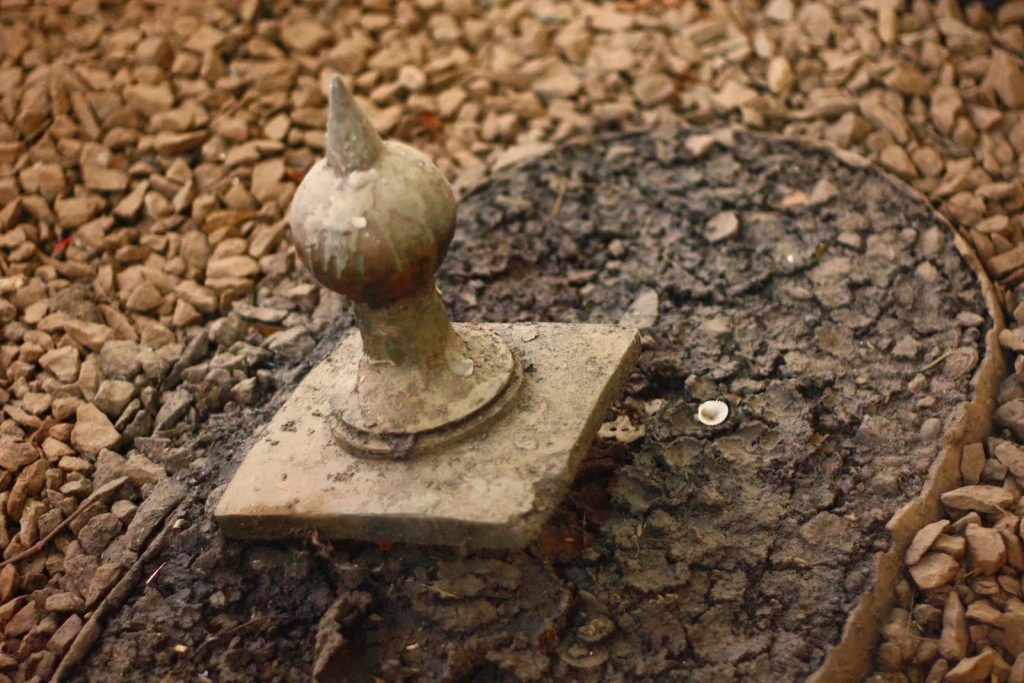 2. One Friday, a great gathering of chiefs and elders of Ashanti was held in Kumasi. Anokye on that day was at his best, and he danced until he went into a trance. When he regained consciousness there was darkness, thunder and storm, in the midst of which, accompanied by a thick cloud of white dust, he brought down from the sky a wooden stool, adorned with gold which floated gently and alighted on the knees of Osei Tutu. This  became the famous "Sikagua Kofi" or "Sikadua Kofi" (The Golden Stool) of Kumasi and of Asanteman. [MY ADDITION: This is arguably Okomfo Anokye's most important and most famous feat! It was not only witnessed by an entire people, it left with us the Ashanti Golden Stool. What a miracle! Where is Merlin!!! Black people. We have our own stories, and heroes. As African/Black people, it can be argued that our greatest strength lies in the knowledge and the power of our spiritual science. It is an area where we truly excel. I have traveled globally, and have heard this said as far as Asia and the Americas. As Black people, we must learn to EMBRACE the best of this aspect of our culture, epistemology, and history. Just my 2 cents…]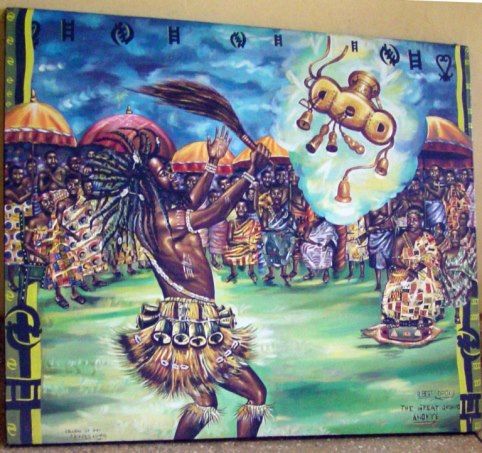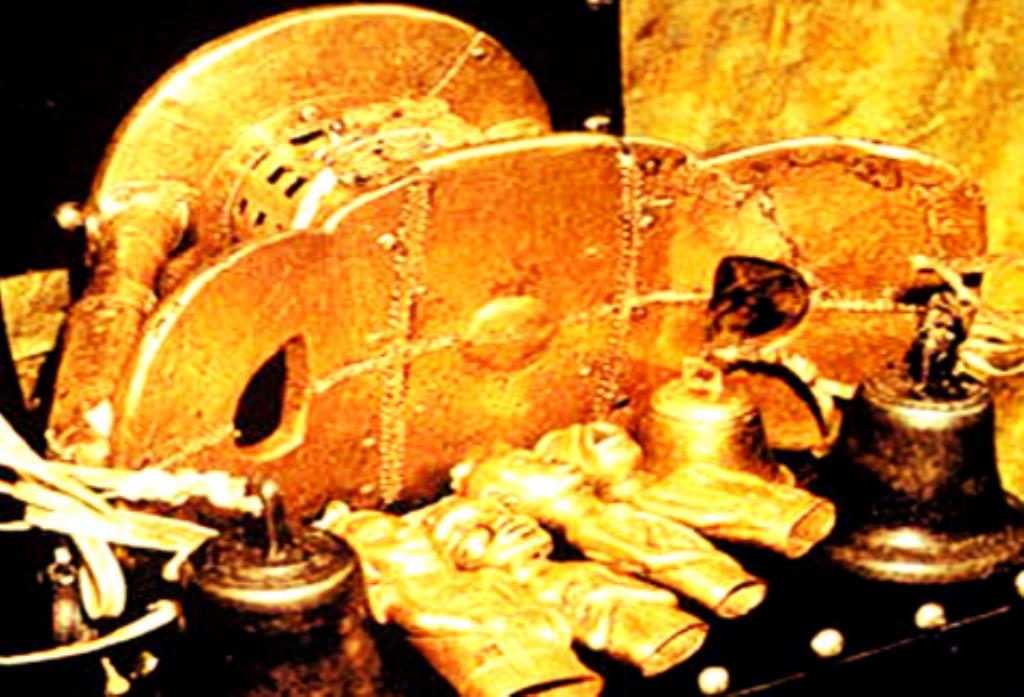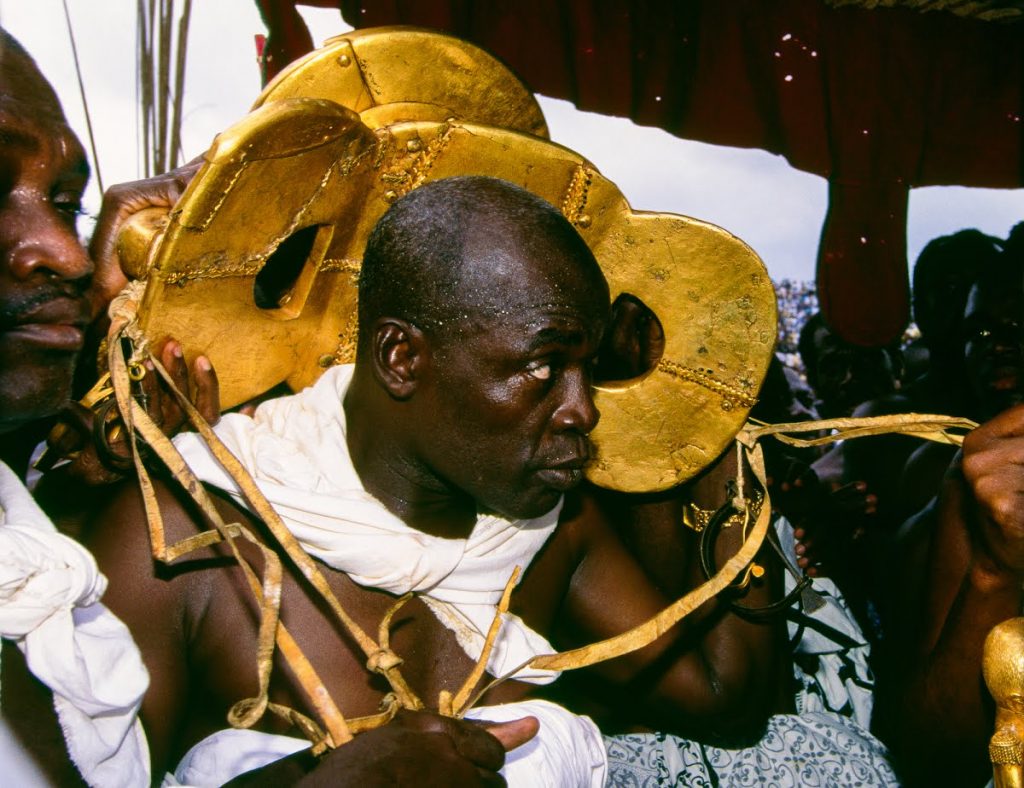 3. There was a small stream in Akrofoso, Agona, called "Obosom Kwabena", which was brought out of the ground by Okomfo Anokye.

4. Anokye by his magic was able to drain a stream called Agyempansu which ran through Kumasi. Having drained the river and made it flow again he renamed it Suben.

5. It is said that the chief of Mampong in Ashanti had a sister called Saka who was childless. Anokye ordered her to go to a stream called Oda to collect some sand. He then told her to sprinkle the sand with "medicine" on a mat upon which she was to lie face downward for seven successive days. She obeyed and bore a son called Amaniampon.

6. Just before the start of the Ashanti-Denkyira wars, Anokye went to Denkyira, turned himself into a beautiful fair-skinned girl and while at the market, succeeded in being called into the harem of Ntim Gyakari. Anokye then turned back into himself after having collected the "seed" (some say his heart) of the Denkyira king, then returned to Ashanti to use it for juju ("medicine") against Denkyira.

7. One day, (presumably in preparation for the Ashanti-Denkyira wars) Anokye had a stool made for him in Ashanti and then went into a trance. When he regained consciousness and was dancing, he caused an object to come from the sky and this, together with the "seed" (some say his heart) of Ntim Gyakari were mixed and put into the stool. Later Anokye became possessed and danced again. In his frenzy he struck the head of [a sacrificial] albino who vanished into the stool. The stool was then given to Krodua, cheif of Tafo, for custody.

8. Okomfo Anokye used 77 perforated pots called "Nkosena" to boil war meducine during the Denkyira wars. He could put liquid into these pots without the liquid running out. [MY ADDITION: The number 77 is an important one. When I met Dogon initiates back in 2012, I learned that there were 77 laws in Kemet. Asanteman also once had 77 streets, in places such as Asantemanso, Kumawu, Kumasi etc. Rattray in his book Ashanti Law and Constitution (p. 61) gives a list of the names of these 77 streets. Finally, before Anokye vanished forever (there was apparently no record of his death), he announced that he was going to perform rituals for 7 years, and 77 days and nights, during which time no one was allowed to fire a gun, weep or mourn for him, though he may appear dead. This request was respected for 7 years and 70 days, however after this period, his nephew violated the request. Anokye then vanished and there was no trace of his body. 7 is actually an esoteric number for many reasons, which go beyond the scope of this article ]

9. During the Ashanti wars, Anokye ordered General Amankwatia to go to a certain spot in the bush where he would meet a big leopard. Amankwatia went there and broung the leopard back alive [apparently guiding it by its left paw] and it was used by Anokye in his magic.

10. During the wars of liberation with Denkyira, Anokye and his son, called Agyapa, climed a certain "kyenkyen" tree from where he could see Ntim Gyakari, the Denkyira king, in his camp. Anokye left imprints of his feet on the tree (see photo below)

11. During the Asante-Denkyira wars, the Denkyira also had a famous priest on their side called Kyerekye. He and Anokye pitted their magic against one another. Anokye tied a knot in an elephant's tusk and then sent it to Kyerekye to untie (which was apparently left untied, see photo below)

12. It is said that Ashanti started to suffer some reverses when the Denkyiras were pressing them on all sides. Anokye then ordered a swarm of bees to attack the enemy, so that the Denkyiras fled in all directions. In their panic the Denkyiras fell into the hands of the Ashanti and many prisoners were taken.

13. In another story it is said that while the Denkyiras hotly pursued the Ashanti, Anokye made total darkness fall on the whole line of Denkyiras which made it impossible for them to find their way.

14. On another occasion during these wars when the Ashanti were getting desperate and about to despair, Anokye with his magic wand made a forest of oil palm trees spring up to block the advance of the Denkyiras

15. On yet another occasion during these wars, Anokye made a silk cotton tree expand and spread out like a fence or wall to receive enemy fire.

16. Again on another occasion Anokye used his fly whisk to direct the bullets fired by the enemy to pass by his left side to hit a big tree far away back at his village. The tree is still stainding at his village near Agona Akyempem, and is called "Odan-gye-abo" (i.e. tree-receiving-shots)

17. Yet again (during the Ashanti-Denkyira wars) in desperation the Ashanti were fleeing so they left the body of a dead general behind. Anokye however made the dead body stand up as it joined the others in flight.

18. After the Denkyira wars, the king of Dwaben refused to give presents to Anokye (while the others did). Anokye then became annoyed and sent a cadaver ant into the cheif's ear, saying: "Bring the awards and presents for Anokye" (Twi: Kotowbre se ma w'abode mmra nanso Ɛmmra ntƐmntƐm"). The chief became afraid and offered gold and many slaves to Anokye.

19. After the battle of Feyiase there was [famine]. Anokye said the shortage would be overcome by sacrificing an albino. One was sacrificed and the famine stopped.

20. Okomfo Anokye informed Osei Tutu that he was going away on a quest to find "medicine" against death. He would be gone for seven years and seventy seven days and nights. During this time there was to be no mourning for him, no gunshots, although he appeared dead. He returned to his village and went into his hut. Anokye had his nephew Kwame Siaw watch over him during this time. After seven years and seventy days, his nephew obeyed his uncle's order but after this time he declared his uncle dead. He instigated the weeping and gunshots [part of a ritual to see off the departed]. Upon opening Anokye's door, the room was empty. It is said that on that very day there was a man from Mampong visiting Agona (Anokye's region) who asked what all the noise was about. He was told that Okomfo Anokye had died so the people were mourning him. The man from Mampong then said he was Okomfo Anokye and that because his orders were disobeyed, because the final funeral rites had been performed, he was going to leave Ashanti never to return again. [MY ADDITION: This particular final story has a lot in common with another similar story from Taoist spiritual traditions which I have come across. The similarity comes in disobeying the instructions given by a spiritual master who went into suspended animation.]

*For more detailed published Ashanti accounts of the life and exploits of Okomfo Anokye, see chapter 24 of Rattray's book Ashanti Law and Constitution.